Return to Headlines
In honor of Martin Luther King, Jr. Day, all schools are closed next Monday, January 20th
In honor of Martin Luther King, Jr. Day, all schools are closed next Monday, January 20th.
In the spirit of Dr. Martin Luther King, Jr.'s memory, we encourage families to explore volunteer opportunities that allow them to give back to others.
Here are some local MLK, Jr. Day events and organizations that appreciate volunteers:
If you have any other volunteer opportunities in mind, please send them to rsantos@framingham.k12.ma.us to be added to this lis.
Did you know that Stevie Wonder was key in the creation of MLK Day?
On his 1980 album "Hotter Than July", Stevie Wonder included 'Happy Birthday'. This was his ode to Martin Luther King Jr. and his call to make MLK Day an official Holiday. The album included a large photo of MLK with a call to endorse the holiday: "We still have a long road to travel until we reach the world that was his dream. We in the United States must not forget either his supreme sacrifice or that dream."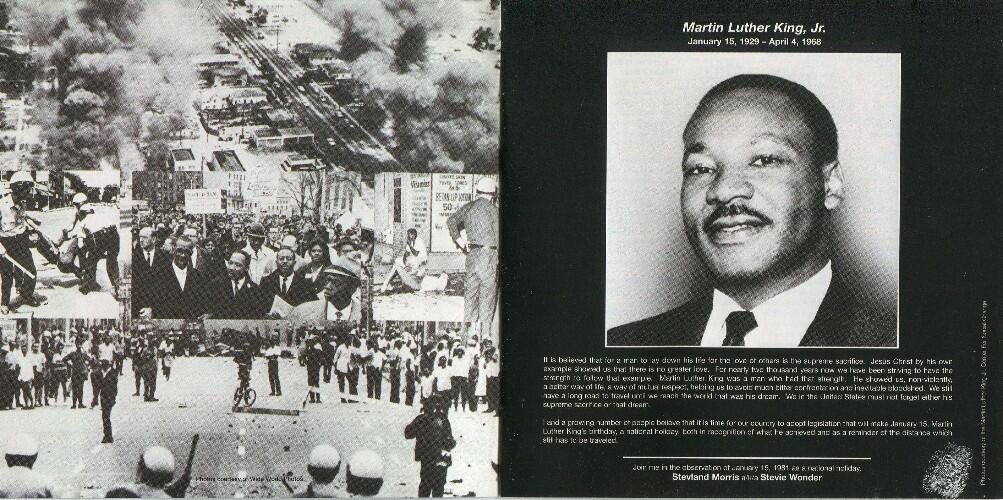 The lyrics of the song directly celebrate King's legacy:
I just never understood
How a man who died for good
Could not have a day that would
Be set aside for his recognition
Because it should never be
Just because some cannot see
The dream as clear as he
That they should make it become an illusion
And we all know everything
That he stood for time will bring
For in peace our hearts will sing
Thanks to Martin Luther King
Stevie Wonder was awarded the Congressional Medal of Freedom by President Obama, who told Wonder that it was the first record he ever owned. Stevie still performs "Happy Birthday" regularly to spread the message of Dr. Martin Luther King Jr. The incredible story of how Martin Luther King, Jr. Day became a holiday - including the historical importance and the pop culture influence is covered in this CuePoint article by Marcus Baram.