Return to Headlines
Framingham Middle and High School Teams Compete in the VEX Robotics Competition 'Turning Point' Qualifier
Framingham Public Schools
Robert A. Tremblay, Ed.D., Superintendent of Schools
73 Mount Wayte Avenue, Suite #5
Framingham, Massachusetts 01702
Telephone: 508-626-9118 Fax: 508-877-4240
---
Framingham Middle and High School Teams Compete in the VEX Robotics Competition 'Turning Point' Qualifier
January 10, 2019 (Framingham, MA): This weekend 50 middle and high school robotics teams from Connecticut, Massachusetts, and Rhode Island will be competing all day in the VEX Robotics Competition game 'Turning Point'.
Teams will compete in qualifying rounds to establish performance rankings and will be evaluated by judges on their engineering design process, build quality, as well as their performance on and off the field. This tournament will qualify the winners of the competition and judged awards, to move up to Southern New England Regional Championships which take place February 23rd at the middle school level and on March 2nd and 3rd at the high school level. Regional Championship winners will move up to compete in the VEX Robotics World Championships which takes place April 24th - 28th in Louisville, KY alongside over 750 teams from 45 countries.

Framingham Public Schools will be fielding two high school teams and four middle school teams from Cameron and Walsh Middle Schools. Students have been designing, building, programming, and testing their robots ever since the game was revealed last April. Students are part of 4-6 member teams. As part of the Framingham Public Schools after school program, students meet multiple times a week to work on their robot. Teams can also bring the robots home to perfect their build and programming. Currently, both Framingham High School and Walsh Middle School have teams qualified for regionals. Walsh and FHS have been competing in VEX Robotics Competitions since 2013 and have qualified teams to represent the region every season since their inception.
(Photo shows the 12x12 square field at the end of a match.)
The Game
VEX Robotics Competition Turning Point is played on a 12'x12' square field configured as seen above. Two (2) Alliances – one (1) "red" and one (1) "blue" – composed of two (2) teams each, compete in matches consisting of a fifteen (15) second Autonomous Period followed by one minute and forty-five seconds (1:45) of Driver Controlled Period.

The object of the game is to attain a higher score than the opposing Alliance by High Scoring or Low Scoring Caps, Toggling Flags, and by Alliance Parking or Center Parking Robots on the Platforms.
Event Details
Event Name: VEX Robotics Competition Turning Point - Middle and High School Qualifier
Event Location: Quinsigamond Community College, Hebert Auditorium in the Suprenant Building 670 West Boylston Street, Worcester, Massachusetts
Event Date/Time: Saturday January 12, 2019 from 9am to 5pm
Event Information: More information on the event and directions can be found on the Robot Event Website.
The event is open to the public and there is no admission fee.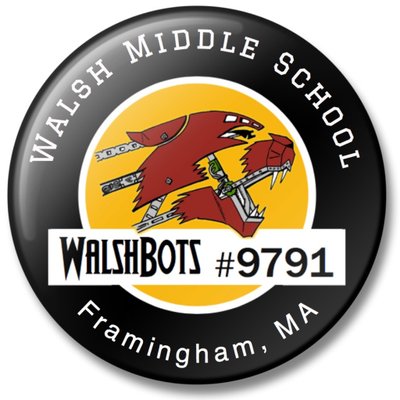 Walsh Bots Club Advisor: Pascal Chesnais - pchesnais@framingham.k12.ma.us
Walsh Middle School Robotics Club has a social media presence:
Facebook page: https://www.facebook.com/WalshBots/
Twitter: @WalshBots
FHS Robotics Club Advisor: Peter Erbland - perbland@framingham.k12.ma.us
Framingham High School Robotics Club has a social media presence on:
Twitter: @RoboticsFHS
Web: https://www.fhs-robotics.com
About Framingham Public Schools
The mission of the Framingham Public Schools is to educate each student to learn and live productively as a critically-thinking, responsible citizen in a multicultural, democratic society by providing academically challenging instructional programs taught by highly-qualified staff and supported by comprehensive services in partnership with our entire community. For news, updates, and announcements, follow Framingham Public Schools (@FraminghamPS) on Facebook, Twitter, and (@framinghamschools) on Instagram. You can also join the conversation using #FraminghamSchools.
# # #